Culture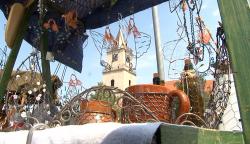 The bearers of cultural and spiritual values of the Hlohovec region were from the 15th century mostly Franciscans and priests as well as teachers. In 18 century there was theological school in the monastery. Rural people on the other hand were the bearers of folk traditions. Folk costumes and customs were particularly kept on the right side of Váh River – villages Madunice, Červeník, Trakovice and local part of Hlohovec – Šulekovo. Left side of the river Váh was mostly occupied by villages with winemaking traditions. Wine houses (hajloch) were preserved in villages: Sasinkovo, Dvorníky, Posádka, Boničky.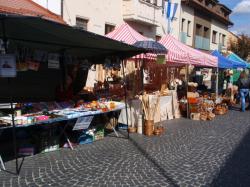 Walking through the town and sightseeing you shouldn't really miss the Castle Park. The Castle refurbished from original medieval castle in 1790-1800 dominates it, but the real gem is sycamore groves and terraces. Architecturally outstanding is the oldest preserved theatre building in Slovakia called Empire theatre from 1802, which was visited by the Emperor Franz II. During the performance of Ludwig van Beethoven. There are few more sites worth visiting – artificial cafe Grotta with fountains, Castle pond and greenhouse.
     In the historic centre of Hlohovec town you can find many historical landmarks. Those are mainly bourgeois state school building from 1882 and the state's so called "stone" school from 1910. Visitor's eye can spot wooden stakes in the Váh river when the river level is small as the relic of a medieval bridge built in 1359 by Mikuláš Kont, Trinity – Plague column from 1740, small religious statues in the nearby parish church, the building of hotel Jeleň with Renaissance cellars, sculptures by academic local sculptor Ludovít Gog or stone relief from academic sculptor Vojtech Ihrisky. As a reminder of once a big enclave of Jewish community there is the Jewish cemetery in Nitranska Street from early 18th century.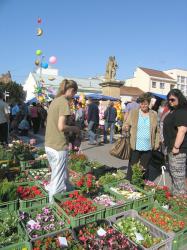 There are 9 museums and memorial rooms showing history, art, folklore and nature from around Hlohovec town in the district. The largest one is the History Museum in Hlohovec town established in 1959 with 8 permanent exhibitions and the collection of more than 120 000 pcs. Less available, but with large collection is Museum of prisoner in Leopoldov.
     In close-by villages visitors can admire the memorial room of Ján Hollý, exposition of Bricklaying and historical agricultural machinery and stable engines in Madunice village, exposition of bricklaying history and a gallery of castle riding club. Villages Červeník and Siladice can offer interesting ethnographic expositions.
     Little trips into the surroundings of Hlohovec town offer several valuable landmarks. In the district there are 22 villages and 2 towns. Bojničky (first written record from 1113), Červeník (1113), Dolné Otrokovce (1113), Dolné Trhovište (1156), Dolné Zelenice (1244), Dvorníky (1247), Hlohovec (1113), Horné Otrokovce (1113), Horné Trhovište (1156), Horné Zelenice (1244), Jalšové (1352), Kľačany (1256), Koplotovce (1113), Leopoldov (1664), Madunice (1113), Merašice (1390), Pastuchov (1275), Ratkovce (1113), Sasinkovo (1256), Siladice (1113), Tekolďany (1310), Tepličky (1113), Trakovice (1275), Žlkovce (1229). Each one of them has several interesting buildings. Among them the most interesting are re-built manor houses in Sasinkovo, Koplotovce or Horné Otrokovce.
     The oldest sacral monuments in Hlohovec district are Roman Churches. The only church of roman rotunda was maintained above the village of Jalšové. It dates to 1st half of 13th century. Further to the east there are many important medieval buildings – e.g. the Church of saint Martin the bishop of Merašice (with the centre from 13th century), Church of Saint Bartholomew in Horné Trhovište from early 13th century and the Church of saint Juraj in Dolné Trhovište from the 1st third of 13th century. In the south part of the district in Horné Zelenice village there is Roman Catholic Church of Saint Martin the Bishop in Roman style from middle of 13th century.
     Very important strategic point and later on railway junction town became the town Leopoldov with the fort built to protect against Turks. The building work started in 1665 after Vašvár peace treaty and since 1855 it was used as a prison. There is a Church of saint Ignatius from 1671, unique monuments represents the pillory from 1678. The square and the area of former fort were connected through a Baroque brick-stone bridge. The railway building is one of the oldest of its kind in Slovakia. There is a stone pylon between the town of Leopoldov and former village of Šulekovo – memorial of Vilko Šulek and Karol Holuby,
     Slovak volunteers executed during the revolution in 1848. The memorial was erected in 1948 at the place of gallows and designed by Dušan Jurkovič.
     Every village in the region presents itself mainly during annual fairs and festivities. Among the largest there is the traditional Michael fair in Hlohovec town. Other important events are: Flower Day in Hlohovec, Onion Festival in Madunice, Music festival in Červeník, spring and autumn march HP March Hlohovec and April Walk – Fornoseg-Frašták. Traditional winemaking is represented during events such as "Frašták's wander after wine" in Hlohovec, wine exhibition "Wine Hlohovec" or "Wine tasting in Dvorníky".
Published 16.9.2014