History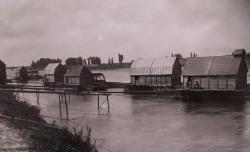 The oldest settlement of Hlohovec is evidenced from the Stone Age – Upper Palaeolithic. A significant turning point in the history of Hlohovec town occurred after the arrival of the Slavs around 500 AD. At first it was only a settlement on the ancient trade route from Považie to Ponitrie, later it was Slavic castle built on a high terrace above the river. Hlohovec town consists of four historic settlements that were later merged into one. Little towns Starý and Nový Hlohovec (Old and New Hlohovec) joined administrations at the end of 17th century.
     Village Saint Peter was affiliated to Hlohovec in 1953 and village Šulekovo became part of the town in 1980. The first record of Royal Castle of Hlohovec is mentioned in Zaborská decree from 1113 (Golguz). It was part of defence borderline and in 12-13 century it became the seat of commit.
     In the 14th century there was a new settlement created close to village called Old Hlohovec, which took the name Nový Hlohovec (New Hlohovec). The village of New Hlohovec was granted the right to organise markets and with town privileges by the Hungarian King Louis I in 1362. For the first time in 1400 the name Freistadt (slang name Frašták) appeared – probably due to influence of a new wave of German colonists arriving after 1350. In 1663 - 1683 Hlohovec town was under Turkish occupation and the northernmost point of the Ottoman Empire. There were following noble families connected to the development of the town: Ujlaky family, Thurzo family, Forgáč family and Erdödy family. Hlohovec was a typical agrarian town with widespread vineyards, mills and the biggest cattle markets in Upper Hungary. Since middle of 19th century it became administrative and industrial centre of the region.
Published 16.9.2014