Hranice
Basic informations about the town Hranice

The town of Hranice lies in the Moravian Gate Valley mainly on the right side of the river Bečva, about 260 m above sea level. The part of Moravian Gate, in which Hranice is situated, is called Bečva Gate. It is wedged between the Oder hills and undulating country under the Beskids called Maleník. Bečva Gate is a flat undulating country of altitude from 205 to 366 m above sea level.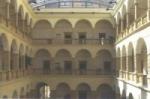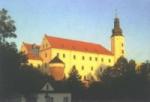 Hranice belongs to the cities with a very interesting natural environment. Along the river Bečva, floodplain deposits of Tertiary origin can be found. In the northwest, they merge into the terrace, which is formed by gravel-like sand. The southwestern side is formed by Palaeozoic Devonian calcites. Palaeozoic slates and partly agglomerates, form area of the forest massif called Maleník. Karst formation the Hranice Karst extends on both sides of the river Bečva. Tectonic deformations, precipitations and springs of thermal water, saturated with carbon dioxide, caused its formation. Hranice Karst has got two remarkable natural creations. Zbrašov Aragonite Caves, that arose from so-called Teplice carst-forming, and the Abyss of Hranice, that was formed by ruined system of the caves.
Abyss of Hranice is the deepest abyss in the Czech Republic. Its definite depth has not been measured yet. The depth of the abyss to the lake is -69.5m. The newest measured depth from year 2006 proved the depth of -220m in the flooded part. Thanks to the thickness of local calcite, the abyss could reach even the depth of -800m. From the geological characteristics of area of the town, it can be said, that the raw material basis is remarkable deposits of quality calcite. In the south part of the town there are state nature conservancy reserves Hůrka, Velká Kobylanka, Malá Kobylanka, Nad Kostelíčkem. Not far from the town the impressive castle Helfštýn is situated.
Hranice lies in the area of main transport and engineer corridors, on the main railway and motorway routes from Přerov to Ostrava, with the important branch to Valašské Meziříčí, to the Beskids, and Vsetín and to Slovakia. Teplice nad Bečvou Spa lies in the surroundings of the town, which has its importance for Hranice too.
Published 10.7.2009
Updated 18.12.2012