The wine growing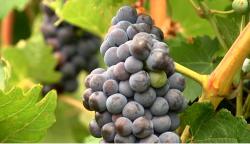 The town of Hlohovec is one of the oldest winegrowing centers in Slovakia. The early evidence of winemaking in the region can trace its roots to the early Middle ages, when it started with targeted planting of vineyards on the southern slopes of the Považský Inovec mountain range. While vineyards were already growing in this region in the 13th century, the first written accounts of vitis vinifera cultivation in the territory can be found in a formal document issued by Nicholas Kont, the owner of Hlohovec, in 1365. In this document, based on the application of vineyard regulations in the free royal city of Trnava, a new set of viticultural and winemaking regulations was established for Hlohovec.
     In the 14th century Hlohovec ranked among the most important wine-growing centers of south-western Slovakia. In 1885 the grapes matured on 1028 hectares of vineyards. From this area, according to statistics, were obtained 74 834 hectoliters of wine and 108 000 kg of grapes for export to other countries.
     Unfortunately, three years later (1888 - 1889) Hlohovec was hit by the phylloxera epidemic, which destroyed most of the vineyards for wine  grapes in Europe and for many years paralyzed the local viticulture.
     Significant flourishing of wine production, after the devastating phylloxera, occurred in the first half of the 20th century and is associated with the names of two local wine producers, Ferdinand Fussmann and Francis Belžík. Fusmann was in the 1930s the biggest wine producer in Slovakia, his annual production of 5,000 hectoliters of table wines and so-called quality wines p. s. r. was not achieved by any other Slovak producer. The most important wine grapes grown in Hloho's vineyards were Griiner and Roter Veltliner, Gruner and Roter Silvaner, Dievčie Hrozno (Mädchentraube, Leánka), White Gamay, Riesling, Pearl of Csaba, Malingre, Muscat Ottonel, Chasselas, Pinot Noir, Traminer, Ezerjó and Medovec. Besides these wines there was widespread production of red Klevner. The old types of grapes as Sárfehér, Kadárka, Blauer Portugieser, Hustá rihuľa and table grapes as Erdélyika (in local colloquial speech - érdylka), Burák are additional varieties which complemented the scale of wine grown and processed in this region.
Text: Mgr. Jozef Urminský
Published 16.9.2014